Hello, hello, and welcome to my stop on the Meet: My Machine! Blog Hop hosted by the lovely duo of Erin at
Sew at Home Mummy
and Stacey at
The Tilted Quilt
. If you are new here, welcome! Please feel free to take a look around - my machine and I like to keep busy so there is plenty to see. This is my 150th blog post (I can't believe its been that many!), and to celebrate I am having a giveaway - check out the bottom of this post for details on how to enter.
UPDATE: THE GIVEAWAY IS NOW CLOSED - THANKS TO EVERYONE WHO ENTERED!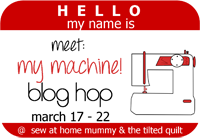 So I am here to tell you all about my sewing machine. I have a Bernina 802 Sport that my mum bought new in 1988 (yes, its 25 years old). It's the machine I learned to sew on, so apart from its actual virtues, it holds great sentimental value for me, and I will never get rid of it.
The Bernina 802 Sport is a slightly obscure machine - I couldn't find out a whole heap about it online. I did find this nice retro advertisement from the 26 September 1984 edition of the Schenectady Gazette.
The text below the Bernina 802 Sport reads:
"The beginner Bernina - the affordable version of the world's finest sewing machines. Bringing you many exclusive Bernina features, including a wide range of practical built-in stitches. Now at never-before prices. You'll start with the 802 and stay with Bernina for a lifetime!".
Getting technical, this machine doesn't have a huge number of bells and whistles (it has all of 10 different stitches!) but it has all of the really essential features I need in a sewing machine - bearing in mind that I mostly make pieced quilts. I even made a diagram to prove it!
So, I thought I would share some of the things I like about my sewing machine with you:
- it is fully mechanical. To my mind, this means there are less things that can go wrong with the machine, and anything that does go wrong can more easily be fixed.
- it is all metal. This makes for a very sturdy machine.
- it is nice to sew on. Because my machine is fully mechanical, there is a sort of satisfying smoothness to the way it sews. I have used more modern machines (my mum has a Bernina 440 QE) and while I appreciate all the bells and whistles, there is a tiny lag between pressing the foot pedal and the machine starting up which I don't have with my machine. It's kind of hard to explain, but sewing on my machine just feels good!
- I can buy new accessories for it, even though it's quite old. This is an advantage of buying a "big name" machine. Bernina is still around and still making new accessories which fit my sewing machine – like the walking foot I use for quilting, and the invisible zipper foot I bought a couple of weeks ago.
- service agents are everywhere. This is another advantage of having a Bernina sewing machine – it's such a well known and readily available brand that I feel like I could go just about anywhere and would still be able to get my machine serviced.
- it is portable. I can easily move my machine around my house, or take it out for classes, sewing meetings or retreats. It's not light (it weighs 9 kg, or nearly 20 pounds), but it is compact so it's not too hard to carry around.
- I can say for sure that you don't need a big fancy sewing machine to make quilts. Sure, it might make things easier, and you might be able to do a wider range of things, but it is definitely not necessary. Part of this blog hop I've really enjoyed has been seeing seeing how many other quilters are working with reasonably basic machines and loving them!
This is not a gratuitous cat photo - he's there for scale... Also, not at all relevant, but this cat LOVES this chair. Seriously, he's obsessed. Like, he sits in the dining room on his own like a weirdo just because of this chair.
I'm not planning to buy a new sewing machine at the moment, but when I do, this is what I will be looking for:
- large throat space. The Bernina Sport 802 only has a throat space of about 7", which makes quilting larger quilts a real challenge. It also means I don't have a lot of space for my right hand when I am free motion quilting, which can make things tricky. A (much) bigger throat space will be the number one must-have for me when I am looking for a new machine.
- automatic needle down. Ooh boy, I spend a lot of time putting the needle down by winding the hand wheel on my sewing machine. This slows things down and can leave me with jerky stitching when I am working on (wrestling with) a large quilt or free motion quilting. Automatic needle down seems to be fairly standard on good quality new sewing machines, so it will be another must-have for my new machine.
- more speed. I spend a lot of time pedal to the metal on this machine, and especially for quilting it would be great to have a bit more oomph.
- knee lift. Being able to lift the presser foot with my knee sounds great – like it would speed up chain piecing and make quilting much easier.
Erin asked if we could show a little bit of our sewing spaces as well. I do have a spare room in my house that I could theoretically use as a sewing room, but its quite small, a bit dark, and down the end of the house away from the kitchen and the lounge where it feels more homely. So instead, the spare room is my stash room, and I sew on the dining room table.
This set-up is pretty typical for me, except there is usually WAY more fabric on the table!
I like to have the machine on the right-hand corner of the table so that if I am quilting, the table can take the weight of the quilt on the left. I put a non-slip mat under my sewing machine (and also under my foot pedal, since I have a wooden floor in the dining room), and it really stops it moving around when I am sewing (yay - nothing worse than trying to free motion quilt and moving the machine around more than your quilt - believe me, I have been there!).
This is more typical - fabric everywhere (there is fabric for at least two, and possibly three quilts in this shot), cats in the way, computer at the ready.
So, this is not just my first blog hop, it is also my 150th blog post! To celebrate both the blog hop and this crazy number, I am having a giveaway. Up for grabs are these three fat quarters of Noteworthy by Sweetwater for Moda.
To win, all you need to do is leave a comment on this post. I'd love to know how you feel about your sewing machine, is it love, is it hate, is it a love/hate relationship? Followers (existing and new, and however you follow) get a second entry - just leave me a second comment letting me know that you follow.
The giveaway will be open until around 10pm NZ time on Tuesday 26 March 2013, when I will draw a winner using the random number generator at random.org.
Thanks so much for stopping by everyone, and good luck!
UPDATE: THE GIVEAWAY IS NOW CLOSED - THANKS TO EVERYONE WHO ENTERED!