Check out what arrived in my mailbox a couple of days ago!
I was very excited to learn that I won a charm pack of Lotta Jansdotter's new collection, Glimma, from the lovely Becca from
Bryan House Quilts
, in her
Sew, Mama, Sew!
giveaway.
I am a big fan of Lotta Jansdotter's designs - I managed to snag quite a bit of Echo even though it was out of print by the time I discovered it. Bella didn't do it for me as much as Echo, although I do love some of the prints. But Glimma! Well, there isn't a print in the collection that I don't love, and I really like the slightly sweeter, lighter colours.
Obviously, this is not the whole range of fabrics from the charm pack - I just tried to pick a representative selection to photograph.
I know it was hard for Becca to part with this charm pack (I would never have let it out of my hands), so thank you so much Becca! I am very excited to work with this fabric, and I have a design in mind already.
Have you been lucky enough to win anything in the recent rounds of giveaways? I actually won something else in another
Sew, Mama, Sew!
giveaway, and am eagerly awaiting its arrival all the way from Ireland.
In other news, in case you want to take a breather from the Christmas festivities, I have put together a few posts to take you through the Christmas to New Year period. Tomorrow, I will be sharing a few links to things that I found interesting, useful or inspiring. Then, starting on Boxing Day, I will be posting a new handmade Christmas gift every other day until New Year's Day.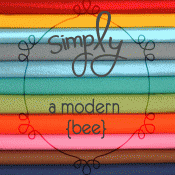 Finally, if you are keen to be part of the Simply Solids bee (blogged about
here
), don't forget to sign up before 31 December. Also, Erin at
Sew at Home Mummy
is running a Simply Solids FQ Swap - you don't have to be part of the bee to participate, sign ups run until 31 December, and you can find all the details
here
.
Phew - there are a lot of words in this post! I have finished work for the year, so am now in relaxed mode. Hope you are relaxing and gearing up for celebrations too!