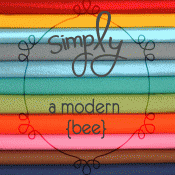 Erin at
Sew at Home Mummy
has set up a new online quilting bee called Simply Solids, in which the members will (you guessed it) use only solid fabrics. You can find all the details
here
.
I have been wanting to make an all solids quilt for a while, but just haven't got there, so I think this looks like a lot of fun.
While I love the idea of bee members scattered across the globe working together to create beautiful quilts, the cost of sending fabric and blocks from New Zealand all around the world is something that has put me off joining a bee so far.
One of the best things (I think) about this bee is that Erin is organising it by geographical location. I have signed up for the Australasian section (it says Australia on the sign-up form, but don't worry, it includes all of Australasia). I think Erin has about 7 people for the Australasian group, and ideally would like 12, so if you are in the area, and keen to try working with solids over the next year, I would encourage you to sign up
here
.
I would also encourage potentially interested people in other countries to check it out - I know Erin is also particularly looking for more members for the Europe group and the UK/Ireland group.
Have you signed up for any bees next year? This will be my first one - do you have any tips?