I've been planning my items for both the Sewing Room Swap and Sew Sew Modern Round 3, and I think I'll end up making both my partners fabric baskets. Since I haven't made a fabric basket before, I decided to make a prototype to test out the size and pattern I intended to use.
I used the
Nesting Fabric Bowls
pattern from
a cuppa and a catch up
, and I think it was definitely worth the cost. The technique used to make the fabric bowls is not that complicated, but the pattern explains all the steps in great detail, and it includes lots of variations if you want to add handles, pockets, and lots of other good stuff.
I am borrowing my friend
Anne
's Janome while my sewing machine is being serviced and I was tempted by the novelty of fancy stitches to add these to the exterior of my basket. I think they work really well with the vintage flowers fabric (from Melody Miller's Ruby Star Shining collection and bought at
Stitchbird
but I'm pretty sure I snagged the last FQ).
I lined this basket with one of my favourite fabrics - its an oldie but a goodie from Joel Dewberry's Heirloom line.
This was a super speedy make (apart from applying the interfacing which always takes me ages - this is a job I would happily delegate to the sewing elves!) and gives a really satisfying result. I'll be working on my swap baskets this weekend and I can't wait!
Do you have a favourite fabric basket pattern?
Linking up with: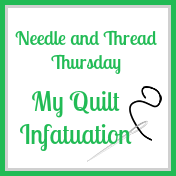 and finish it up friday at
crazy mom quilts
.