No, don't worry, I haven't been duelling lately. We'll get to the reason for the name of this blog post eventually.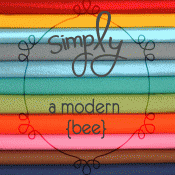 At the end of last year, I signed up to the Simply Solids bee, run by Erin from
Sew at Home Mummy
, and organised in geographical groups. Happily, enough people from the Australasia region signed up and we have a full contingent of 12 - two Kiwis, two ladies in Singapore, and the rest are Aussies.
I decided to go first and set the block for February. One of the rules of the bee is that you either send fabric to the group members, or you can ask them to use fabric from their stash, but if you do that, you cannot say what colours they should use, only how many colours they should use. I kind of like the idea of a completely crazy out of control multi coloured quilt, but I can't quite let go that much. So I've sent out fabric, and am delighted to hear that it has started arriving.
I wanted to use purple, and step a little bit away from my usual palette of light bright fabrics. This is the colour palette I generated using the
palette builder
at
Play Crafts
(a great tool, by the way), using a photo of a sunset with lovely rich colours (
original photo here
).
Working from this palette, I chose my fabrics at a local quilt shop,
Thimbles and Threads
. They carry a massive range of the
Kona solids
, and I find it much easier to pick solid fabrics in person rather than online (plus I didn't really have time to wait for fabrics to arrive from overseas). The colours I chose ended up being a bit different from the original palette, based on the fabrics I thought looked good together at the time.
All the fabrics I picked are Kona cottons, and the colours, from top to bottom, are Hibiscus, Amber, Indigo, Lilac, Ice Peach, School Bus and Chinese Red. To demonstrate why I picked these in person rather than online, I made a mosaic of the colour swatches for these fabrics from the Robert Kaufman website (left to right, in the same order as the pile above). So different! No complaints about the website by the way, it is just super hard to make accurate online colour swatches for solid fabrics.
So, what block have I set for the lovely ladies in the Australasia group? A four by four random half square triangle, like this sample block I made up:
The idea is that once I put all the blocks together, I will have a random half square triangle quilt in the style of
HST Love
and
Pantone Pop
by
Sew Katie Did
. Cutting the fabrics to send out to the bee members, I was really questioning my colour choices - this is far outside my comfort zone! However, I like them a little better having made the first block. Hopefully everything will somehow magically come together when all the blocks are done. Fingers crossed!
Oh yeah, and the name of the quilt will be Pistols at Dawn. I know it's based on a sunset, not a sunrise, but the name just popped into my head when I was looking at the fabrics and it was so melodramatic I just had to go with it.
Have you stepped out of your comfort zone with fabric choices lately?