I haven't always considered myself a creative person. Even now, I feel pretty uncomfortable saying I'm a creative person. It's kind of ridiculous. But, I am!
I've been thinking about creativity quite a bit lately. I
blame
credit my friend Anne from
Play Crafts
. Earlier this year, she started creating a quilt design every day, as a personal challenge to herself. Soon after, she started the
Quilt Design a Day group on Facebook
and it has since grown into a thriving creative community.
One of my two QDAD designs
In August, Anne did a webinar for the Modern Quilt Guild. Unfortunately, you can only view it if you are a MQG member, but if you are a MQG member, I highly highly recommend you watch it (find it
here
). It's all about discovering and developing your creativity. In her talk, Anne pulled together a number of creativity related threads that I haven't seen connected in quite the same way before.
The things I took away from Anne's talk were:
you ARE creative (even if you think you're not)
the way to become more creative is by doing something creative regularly
regularity is important because:

it gives you room to fail (today's creative endeavour doesn't have to be perfect - there's always tomorrow to try again)
it's hard to deny that you're creative if you're doing something creative every day
there's no perfect time to start being creative, so you might as well start now

working with constraints can help you overcome the difficulties of a blank canvas, and push you to be more creative
there's nothing wrong with doing things that have been done before - just make sure you put your own spin on it
community is important - you'll get great ideas from others in your community, and more importantly, it makes things fun!
These are some of the things I had read or watched before I watched Anne's talk, and I think elements of all of them appear in her talk at some point - Elizabeth Gilbert's TED talk on
Your Elusive Creative Genius
, Phil Hansen's TED talk on
Embrace the Shake
, Austin Kleon's
Steal Like An Artist talk
and the book
Steal Like an Artist
,
Brick by Brick
by Stephen McCranie (Anne introduced me to this one), and
this comic
by The Oatmeal (quite sweary, in case that kind of thing offends you).
I haven't been a regular Quilt Design a Day participant, but back in July I took on my own creative challenge, and made a quilt-as-you-go block every day for the whole month. At the end of July, it was kind of a relief not to have to make more blocks, but after a week or two I started missing the process. At that stage I started joining the blocks together, and I finished the quilt (you can see it
here
) a couple of weeks ago. I'm really pleased with my finished quilt, not so much for aesthetic reasons (although I'm pretty happy with it from that perspective as well), but because it represents a certain amount of commitment to the process of making a quilt, and a month's worth of memories, in quilt form.
My #blockadayjuly quilt
However, my #blockadayjuly quilt was just a warm up to the main event, to see whether I thought I had the stickability for a bigger undertaking - making a block every single day for a year. Since I enjoyed making a block every day in July, I've decided to take on the larger challenge, starting next week on my 29th birthday. Since this quilt will be made over the course of my 30th year, I'm calling it the Year 30 quilt. Of course, this is not an original idea (you can read about my inspiration
here
), but I'm putting my own spin on it.
I've been thinking about how to get the most creative benefit out of the year long challenge, and specifically how to incorporate some of those key points from Anne's talk into the process.
The other one of my QDAD designs
Obviously, I've got regularity down! I am going to stick with my original plan of making a block every single day. That regularity is important, and for me, this is also the kind of project I don't want to get "behind" on. A small block every day is manageable. Having to catch up on a week's worth of missed blocks every weekend is not (or it doesn't sound fun, anyway).
Giving myself room to fail has proved a little bit trickier. I thought about not including every single block I make in my final quilt, or putting some on the back, but I decided against those ideas. Instead, I'm going to use the same concept that allows me to accept imperfection in my other quilts, and that is the idea that my quilts are a record of my skill level at the point in time at which I make them. It means that I strive to do my best work, but accept that my quilts won't be perfect, and look forward to the time when I will have improved enough to look back on my current work and see how much better I've got. In this way, I'm hoping that my Year 30 quilt will show a progression between the first block and the last block.
I'm also planning to bring constraints into the mix. I can't quite imagine having to decide what block to make, every day for a year, without anything to guide my decision making. I'm planning to set myself regular week-long challenges, where all the blocks made in that week must incorporate some common element (for example, curved piecing, triangles, improv piecing, appliqué, embellishment, etc). I might also ask other people to set challenges for me from time to time, because I'm sure they'll come up with things I'd never think of. That said, I'm giving myself permission to do the easiest possible version of the challenge if I need to - life happens, after all.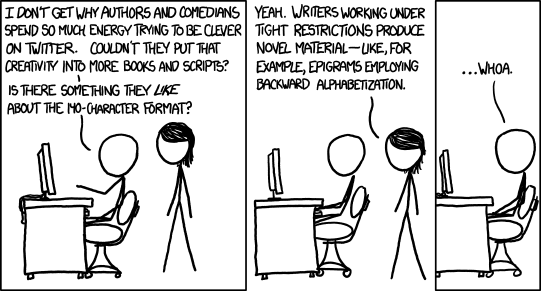 Constraints - seem bad, actually good (from xkcd).
I'm going to change things up a bit as well. I'd like a finished quilt that's actually usable, not 13 yards long, so I'm going to make 4 1/2" square blocks, and not quilt them as I go. If I assemble my blocks in a 19 by 20 layout, I'll only need to make 15 extra to fill in the gaps at the end, and I'll end up with a quilt that's large, but definitely usable (about 76" by 80").
Finally, community. If this is the kind of thing you think you'd like to do, why don't we do it together? I'll share my weekly challenges on the blog (I probably won't do one every single week, but maybe every second week), and host a weekly link-up for people who would like to play along, so we can keep an eye on each other's progress and provide encouragement, support, and creative ideas.
Last time, when I did the block a day July challenge, a few people wanted to know what the rules were. There are no rules! I am setting my own rules for myself, and if you want to follow them too, you're more than welcome to. But if you want to set your own rules for yourself, please do! If you want to make a block every week, instead of a block every day, do it. If you want to make a quilt following a pattern (Dear Jane or Farmer's Wife spring to mind), do that. If you want to use a colour palette that you choose at the start, do that. If you want to go completely random and scrappy, go for it. All options are on the table, so you can set your own constraints.
In case you're wondering (and I know someone will ask the question if I don't say), I don't think I'll use a set colour palette, and I'll probably do the same thing I did with my #blockadayjuly quilt, which was to work from my scrap bins most of the time, and deliberately add in bits of black and white here and there to create something vaguely cohesive. But I still have a week or so to decide, so I might change my mind!
So, what do you reckon? Are you in? Also, can you think of a better name for this challenge generally? Year 30 quilt only really works for me, and I'm rubbish at thinking of challenge names - I always want to put in far too many words!